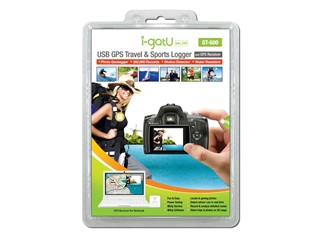 Knowing just where you've been in your travels, and in some cases, knowing exactly where you are, can be invaluable. Be it finding the location of that unbelievable fishing spot from that trip last year, or locating a party in the midst of suburbia, being able to have such an accurate sense of direction would sure come in handy wouldn't it? The really cool thing is that all of us can now be known as the of our block, all thanks to a small tool made available to us by the people of Mobile Action, the "i-gotU GPS Travel Logger".
Product provided by Mobile Action
Price $119.99
 Closer Look:
The packaging for this product sports cheerful colors, product pictures, and an impressive amount of hardware specifications. One thing that inspires confidence is the design of the package itself. A person is able to open the front of the package to reveal the product and accessories without actually opening the package. On the back of the package is a load of information, specifically the aforementioned specifications, as well as simplified step by step directions on how to use the i-gotU's various functions.
            The unit itself is small and compact, with a soft rubber casing surrounding it on all sides and the back. On the back is a small loop that is actually part of the casing, more on that later. The front has a large button and two LEDs.
 Time to install the software.
Installation:
 Just pop in the CD and your off. I found the splash screens for the install of this product every bit as cheerful as it's packaging. The installation was straight forward and over relatively quickly.
Let's take a look at the Specs and Features now.
Specifications:
Dimension: 46 x 41.5 x 14 mm
Weight: 37g
SiRF Star III 65nm GPS low power chipset
Built-in motion detector for auto power on/off
Auto record GPS data in logger mode
64M flash memory to store 262,000 way points
Work as GPS receiver for PC
Built-in 750mAh rechargeable Li-ion battery
Average acquisition time: cold start: < 35 seconds
USB 1.1 cable for charging and PC connect
2 LEDs for on/off/charge/LOGGING/status indication
System requirements:
PC with Windows 7, 2000, XP, Vista
PC with USB 1.1 or 2.0
Features:
Small design with advanced power-saving function.
Motion sensor turns on unit
Auto-map your photos with GPS location information
Compatible with all digital cameras and camera phones, coolest GPS tracking gadget for your journey.
Organize and present your journey in three-dimensional Google Maps and Google Earth
Create and share your live travel blog on-line with all your friends quick and easy
3D Virtual Reality Travel Blogs on @trip are viewable on Windows and Mac computers
Share your own @trip journal or your favorite trips with your social networks on Facebook, MySpace, Digg, Delicious, StumbleUpon, Google Bookmarks and Yahoo Bookmarks.…etc.
Export into multiple file formats (GPX, MHT or KMZ)
Automatically upload photos to popular web album like Picasa and Flickr
Water-resist hardware design, suitable for rainy days, skiing, water sports
Compatible to third party GPS navigation
Knowing all of this, let's get to the fun part. Testing!
Testing:
This is a product that has so many possible applications, that deciding how to test it took some thought. Being that winter doesn't lend itself to long hikes in the mountains, I decided to send my son and video expert from LotsaEntertainment for a walk with the dog.  He strapped on i-gotU Travel Logger, and I started to type this review. When he was done, I would be able to upload the data to my computer and test the software itself for ease of use. Let's see how things turned out.
Before I set out, I first read over the help files located in the program. These were invaluable for my first use of the Travel Logger. Prior to his walk I followed the power-up procedures it searched for a signal for about 20 seconds. Blinking both it's LEDs twice, it signalled that it had acquired a GPS lock. I then went inside and saw if it found my house, hey google maps was right at my front door, wow!
Once my son returned I hooked theTravel Logger to the PC and the GPS data was downloaded, I was able to see the fruits of his expedition. Plus another little drive I took in the car, here is a screen shot on the classic view.
For the purpose of the test however, I chose the Classic Template, as it displays a enough information collected from the unit and you can click play and follow the car taking your trip on the map. Examples include average speed, total duration of the trip, length of each trip segment, altitude, and more. Each individual point contains even more information, enabling the user to get a real feel for the trip, even if they weren't there when it was taken. The "@trip PC" software allows you to go even further, uploading pictures from your digital camera or device, and then placing them along the way as points of interest. This can be done manually, but a very nice feature is the auto-match that "@trip PC" performs with the GPS Log, placing all of your images just where and when they should be automatically.  In the sports analyzer mode you can enter you body weight, height etc and it will track athletic progress.  This is quite the little peice of software.
Although I did not personally go as far as to create a virtual trip and upload it to Google Earth, the people at Mobile Action have a fantastic video of the end result of just that. With the "@trip PC" software, you can let the world, or maybe just close friends, know all about your trip and what you saw along the way. Once your trip is uploaded, you'll be able to further impress with others with the 3d terrain features of Google Earth, proving that you were indeed on top of that particular mountain and here's the proof.
 So there you have it, the testing is done.  Time for the conclusion.
Conclusion:
The Mobile Action igot-U GT-600 GPS Travel Logger is a great product, and here's why. Right from the packaging to end result, everything is made simple. No need to be intimidated if you've never used a similar device, this product has you covered. The help files simply explain everything with the aid of illustrations. One minor drawback is that plugging the USB into the device can be a little difficult due to the design of the charging port. You have to press quite firmly to get it to go in. Also noteworthy is that the charging port is not a generic design, therefore a USB/ AC adaptor would have to be purchased for any trips of significant duration where a computer would not be available. On a positive note, one simple thing struck me as being very well thought out. The protective rubber casing around the device is soft and pliable, with a loop of the same material on the back. This not only protects the device, but allows you to secure it to whatever you so desire, allowing you to properly place the device where it will function. Overall, I was very pleased with the Travel Logger and how it performed, as well as how easy it was to use from start to finish. All of these factors lead me to give it a Gold Award.
Pros:
Price
Easy to use
Small and Lightweight
Precise Instrument
Protective Casing/Loop
Cons: